Aurora Borealis Quilt
Finished Quilt Size: 53″ by 53″
This is my absolute favorite quilt I have ever, ever, EVER made! (and I've made A LOT of quilts)  This is also the first quilt I've made to have gotten published and featured on the cover of Quiltmaker Magazine.
I originally designed this on good old fashioned graphing paper, just as I do with all my quilt designs.  However, I thought about how embarrassing it would be to present my little graph paper sketches to a national quilt magazine, so I decided to step up my game and invest in professional quilt design software.  (In case you're wondering about the software, I use EQ7 Electric Quilt Software, and it's awesome.)  It took some monkeying around and a bit of practice, but I learned how to efficiently use it and designed my quilt pattern on it.  I LOVE how it turned out!
If you're interest in the pattern, it is available in my Etsy shop:  Aurora Borealis Quilt Pattern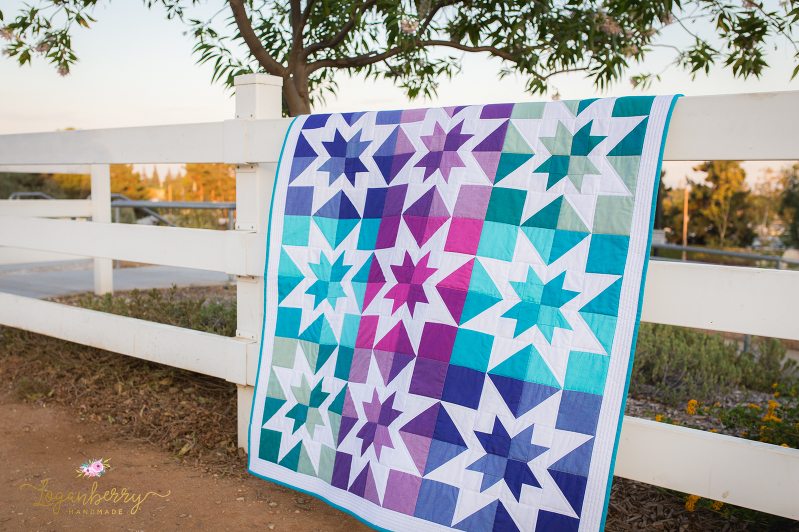 The beautiful fabric I used is from a line called Peppered Cottons by Studio E.  The colors are brilliant and almost completely solid.  The fabric has grains of very faint black and white strands woven into it.  This little detail adds an amazing amount of interest and dimension to the colors, as well as extra texture to the fabric.
Here are some work-in-progress photos, including my little kitty quilting helpers. 🐱✨
Some pretty turquoise for the quilt binding.  Such a pretty and vibrant color, and helps frame the quilt perfectly.

The best part about quilting is finishing the quilt, of course, but also, taking my little assistant out for a photo shoot.  We visited a nearby park with a bike path for the shoot.


Look at his cute little face!  He's always so proud to help and show off the quilts!  He loves this quilt, by the way.  He use to sleep with it every night, up until I made him a Star Wars quilt…
If you are interested in trying this quilt out yourself, the pattern is available in my Etsy shop here:  Aurora Borealis Quilt Pattern
Please share photos when you're done- I would love to see what fabrics you chose and how it all turns out!  Just tag me on Instagram @loganberryhandmade to share!
Thanks for visiting my blog today!  Make it a beautiful day!
Susana 🤓✨