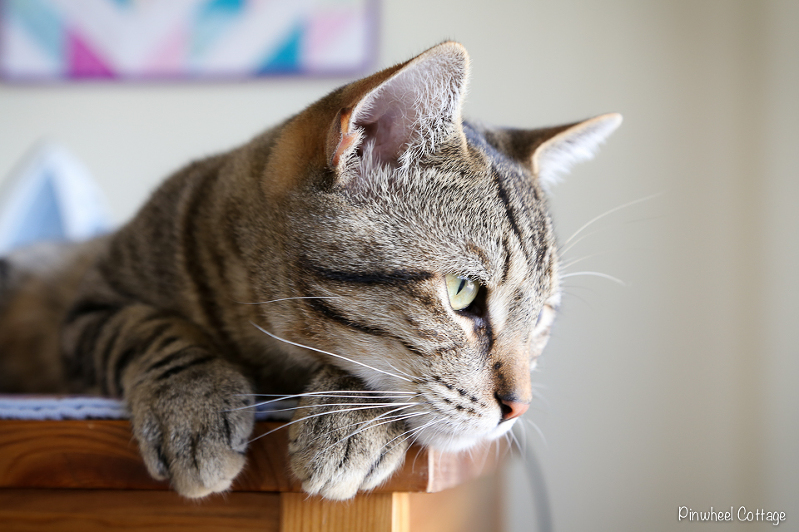 I'm sharing photos of our cat, Poofy, or Mr. Poofs.  He's about 9 months old right now.  I got some nice photos of him today just resting on my sewing table.  The light in my sewing room is just so abundant and wonderful… for now.  Our apartment community is getting some fixtures installed on our windows to keep the building shady and cool.  I've seen these panels on the neighbor's windows already.  The natural light into each apartment will be cut in half, maybe more!  Apparently, many of my neighbors (who are vampires) have complained that the sun is too bright and their apartment is too hot so this is the solution.  They wanted a consistent look on the building exterior so the panels are going up on every window.
But I NEED natural light.  It makes me happy.  It wakes me up in the morning naturally around 6am, without an alarm.  It makes my electricity bill only $14/month because I don't have to turn on my lights until 6pm (and we're really good at conserving energy in other ways too – go green!).  Natural light makes my apartment have a nice and airy feel to it.  And it makes my photos pretty.  As someone who blogs, I need pretty photos!!!
[Deeeeep breath]  Please enjoy these photos of Poofs basking in the natural light that fills our apartment right now.  I think the shades are going up soon.  I'm already feeling depressed.
He's always had these sad looking eyes since he was a tiny kitten.
He's a pretty cute cat, right?  He's a good one.  I'm happy to have him as part of our little family.
Susie  :)