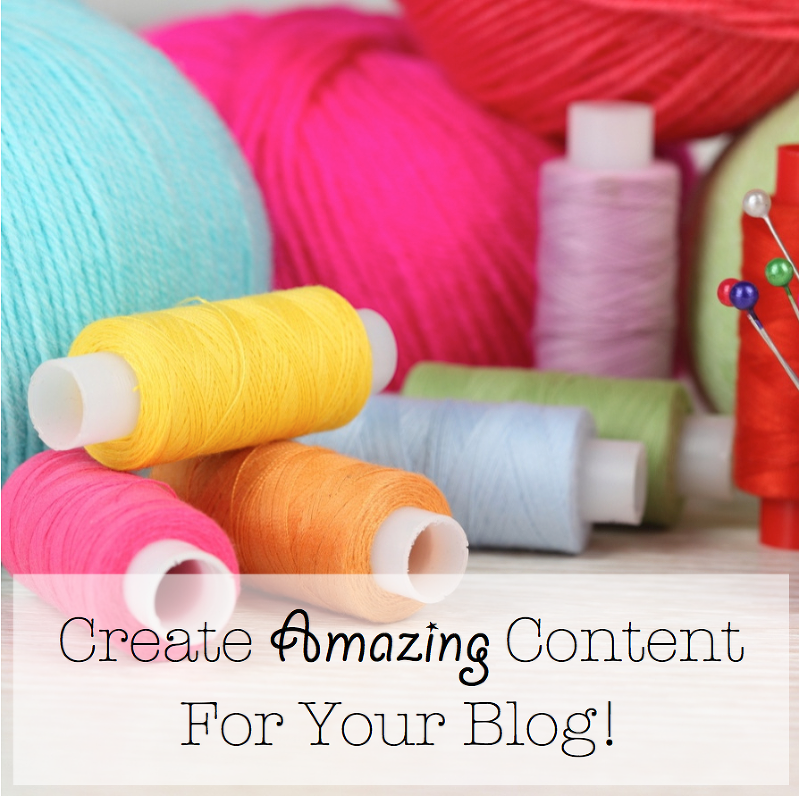 Welcome to Part 2:  How to Create Amazing Blog Content.  This tutorial will go over how to create content for your blog.
This is part of a 4-step series on Starting a Blog and Earning Income.  In case you missed the other parts, here are links to catch up!
Now that you know how to start a blog, let's talk about how to create great content for your readers and followers!  When it comes down to it, content is king in the blogosphere!  If you have creative ideas and original content, everything else will fall into place.  Without this key component, however, you'll find yourself swimming upstream.
Here are my tips to creating content your readers will love and even more important, will earn you those dollars!
Tip #1 – Find Inspiration and Be Inspirational!
One of my favorite things to do when brainstorming a new project is turn to a place with boundless inspiration:  Pinterest!
I do have a special strategy for approaching Pinterest for blogging inspiration, and that is, to PIN WITH A PURPOSE!
Logging onto Pinterest without specific goals in mind is sort of like falling down a rabbit hole.  You eventually come back to reality and it's been 6 hours since you started pinning!  And you've forgotten why you logged on in the first place!  Don't let this happen to you.
Instead, have a goal in mind before you even log onto Pinterest.  A specific goal is helpful for keeping you focused.  An example would be, "I want to find popular sewing ideas for baby gifts."  Once I find those ideas, I make notes about what made them so popular, in order to model my blog posts similarly.
Here are some things to think about:
What were the themes of those pins?
What was the photography like?
How can I apply my own style to my own creations?
When you assess what the great Pinners in your niche are doing, it helps you become a better blogger.  I say that because, in our DIY/crafting niche, Pinterest is everything!  It's the source of over 90% of my blog traffic.  So, I always look at the best pins similar to something I'd like to create, and use that as fuel to my fire!
Tip #2 – Start a Blogging Notebook
My notebook holds all my past, current, and future ideas for projects and blog posts.  I also use it to keep blog info organized, such as running to-do lists, due dates, logins, and pattern sketches.
Once you start your blog, random ideas will fly into your brain all the time.  I'll be out grocery shopping when I think of something I want to sew.  I have to sketch it in my notebook or I'd forget the next minute!  Take your blogging notebook with you everywhere so that all your genius stays in one place!
Tip #3 – Use Photos
I'm an extremely visual person. Whenever I'm out and about and see something that sparks inspiration for a project, I take a photo of it.  I created a photo album on my phone for all the idea-photos that I've taken.  If I see something cool, I don't want to risk forgetting about it.  Photos are super helpful in that way!  Every week, I go through the pictures in the album and create new projects from them.
Tip #5 – Love What You Do
If you plan on monetizing your blog, of course it's important to treat your blog like a business and focus on strategies to grow your business and income.  However, don't lose sight of why you started it all in the first place.  It started from a love or passion for crafting and creating.  Put your heart into every post and take pride in your work.   Don't get so caught up in making the dollars that your blog suddenly becomes just another job.  Make sure to keep yourself in check and always find that balance in making a living and still loving what you do.
I wake up every morning, thankful that I found a way to express my love for creating and earn an income doing it.  Thank you all for visiting and supporting my little blog here!  I wish you all the best of luck!
-Susie 🤓✨
Here are the other parts to this 4-parts series on blogging:
What are your tips for creating amazing content for your blog?