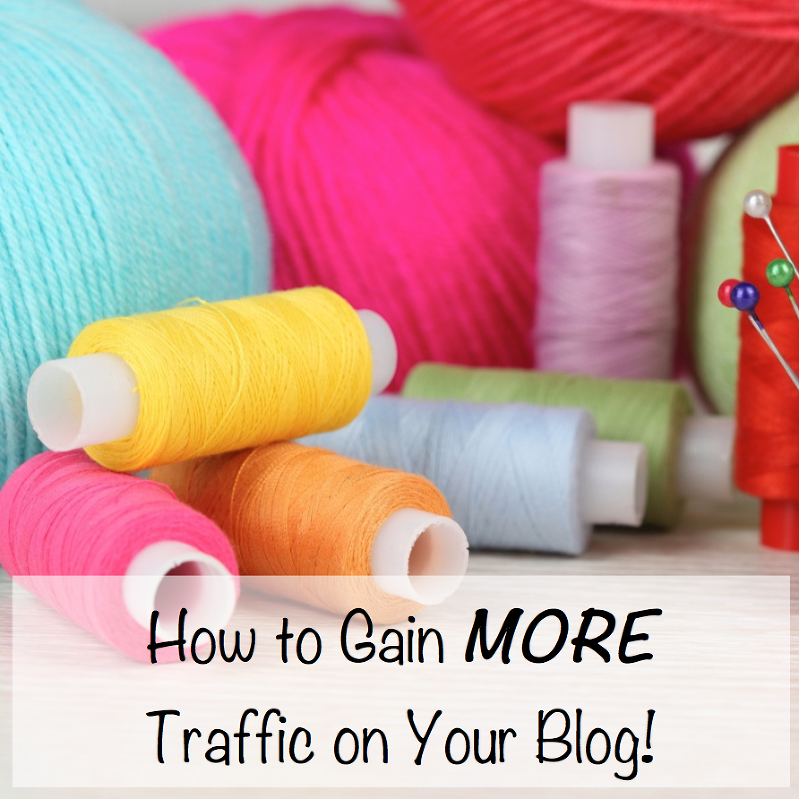 Welcome to Part 4:  How to Gain MORE Traffic on Your Blog!  This tutorial will go over how to increase your blog traffic, increasing your income in turn.
This is part of a 4-step series on Starting a Blog and Earning Income.  In case you missed the other parts, here are links to catch up!
Now that you're all caught up, let's get into the business of how I went from 1,000 to 100,000 page views in just 3 months!  It can be done and I'll share with you all the different strategies I used to do it.  Are you ready?  Here we go…
Let's start with what page views actually mean.
Page Views = the number of web pages loaded in a day, week, or month.  So, although I have 100,000 page views per month, it doesn't mean I have 100,000 readers.  It means that I have 100,000 web pages on my blog have been viewed this month.  That could be any number of people looking at multiple pages within my site.
Page views are also a big deal as far as reporting what kind of traffic your blog is getting.  It will be the #1 question you are asked by colleagues, brands, and ad networks.  The number of page views you have is the golden rule of thumb of whether your applications to networks get accepted or whether brands think it is worthwhile for them to work with you.
In turn, the number of page views your blog has will most likely be a direct result of your social media presence and number of followers.  This easily translate to more engagement on your blog.  But let's dive into how to get those page view numbers UP!  More page views = more money!
Here are a few tips that have worked really well for me.
Tip #1:  Use Pinterest!
Use Pinterest!  Use Pinterest!  Use Pinterest!
I can't emphasize this enough! Over 90% of my traffic is from Pinterest!  It's really quite amazing how much Pinterest has catapulted my page view stats!  (Dear Pinterest, I love you.  Forever.)
This is why I put most of my efforts into Pinterest.  I create images that are specific to pinning on Pinterest.  Here's a sample of one of my pins that has done really well:
Here are some key factors that make this image work on Pinterest:
A long, vertical image orientation maximizes Pinterest real estate for sure!
Bright/well-lit images and use multiple images
A clear title and/or description
Fun, eye-catching fonts and colors
If you are offering something for free, make sure the word FREE appears on the image.  Pinners LOVE this word!  Who doesn't love FREE?!
In case you're wondering how to create a long image like this, it's easy!  It's just a photo collage with the images arranged into a single column.  I use Picasa by Google.
Tip #2:  Use Facebook and Instagram too!
I spread the word about my posts via Facebook and Instagram.  I use each platform differently though.
On Facebook, I only post when I am sharing a finished tutorial and I invite my followers to come read the full tutorial on how to make something.  I like the way my posts show up here and how easy it is to click on the photo and it takes readers directly to my blog.  A lot of my traffic comes from Facebook.
On Instagram, it isn't as easy to direct followers to blogs as it is on Facebook.  It's a multi-step process to get a follower to go to your blog.  They've got to see your photo and then be interested enough to click out to your IG profile, then click your website link in your profile.  It's just not as convenient or quick.
So, for Instagram, I use it a little differently.  Here, I post all my live photos of works-in-progress to build the excitement of what I'm creating.  This is usually over the course of a few days.  Then, when I've finally completed the project, I post one really really nice photo of it.  This process has worked for me in getting enough interest to gain followers and get blog visits.
Oh, also, I post A LOT of photos of my cats on Instagram.  Sorry.
Tip #3:  Give Stuff Away
By this, I mean for you to host giveaways.  Put together some items that you would want to give away.  Maybe a cute zipper bag you just made, or maybe some craft supplies.  Post a photo and the details of your giveaway on your blog and social media.  Be sure to post specific requirements for entering the giveaway, that may include things like having to:
"Like" your Facebook Page
Share the photo with a friend or
Tag a friend in the post
Visit the blog to read all the details and requirements
Some people leave after the giveaway is over but many stay as followers because they actually like your crafts!  Hosting a giveaway is definitely worthwhile for gaining traffic and followers.  As you know, more followers = more page views from your loyal fans.  And what does more page views mean?  More page views = more money!  :)
Some closing thoughts:
Every blog is different.  There are a lot of things that contribute to traffic growth in a blog, including how often you post and how original and unique your content is.  Along with these techniques that I have shared, A LOT of my time and diligence has gone into getting my blog to where it is today.
Thank you for taking the time to read my posts.  May you all have a beautiful day!
Here are the other parts of the 4-part series on blogging:
Do you have some tips to add?  Use the comments section below to share!