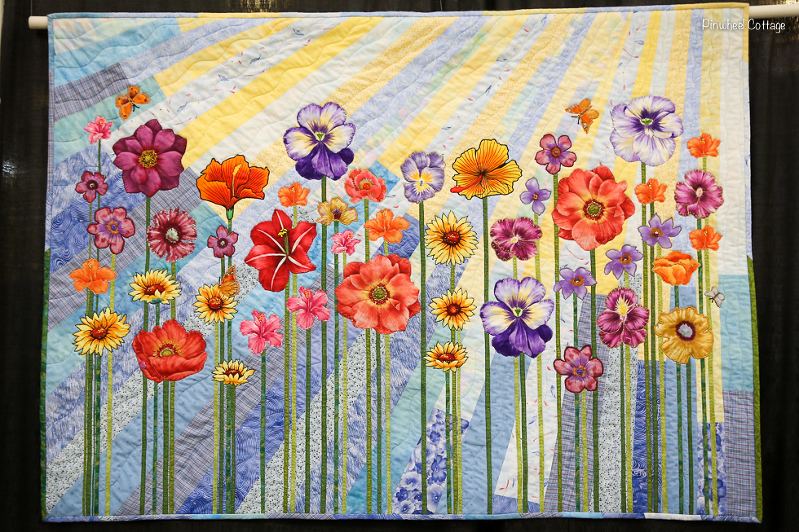 Last weekend, the Glendale Quilt Guild hosted their 36th annual Quilt Show and Retreat at the Pasadena Convention Center.  The theme of this year's show was called "Home is Where the Quilt Is," featuring many quilts with house blocks in them.   They had so many quilts on display, as well as workshops and vendors.  The flower quilt above is my favorite from the show.  This quilt has everything I love about quilting – flowers, patchwork, and vibrant colors!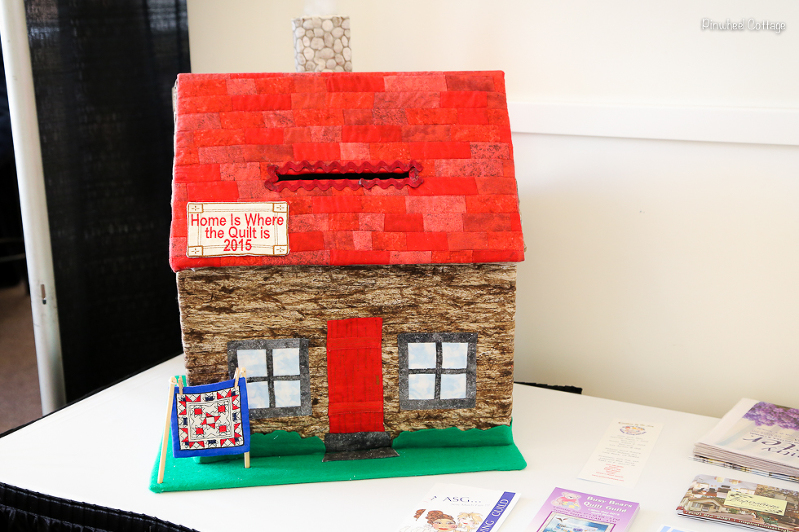 The raffle ticket box.  Quilted, of course.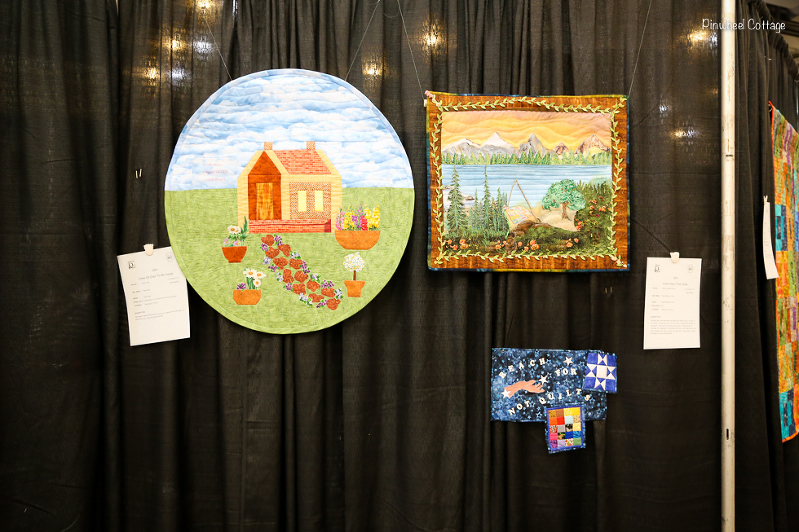 So many quilts were being showcased – all so beautiful!



My son came with me.  "Mama, take a picture of this one.  I know you love cats."  He knows his crazy cat lady mom so well.



After seeing this quilt, he wants a stars and planet quilt of his own.  I'll have to figure out how to make this for him.

I wasn't thinking of upgrading my sewing machine just yet but after trying out the Pfaff Quilt Expression 4.2……. I can't stop thinking about it!!!  It has so many useful features and it just runs so much smoother than my current machine.  It's so quiet!  I would actually be able to quilt at night if I had this machine!  Sooooo quiet!  Being use to my noisy machine, I didn't even know that sewing machines could be so quiet as this one.  Can't. Stop. Thinking. About. It!

I tried out the Husqvarna Viking Quilting Machine as well.  What a dream to be able to free motion quilt with such an open space!


I also test drove the Juki long arm quilting machine.  Wow!  To move with so much freedom on that frame and just go, go, go!  It was really fast and that stitch regulator makes a WORLD OF A DIFFERENCE!  With that kind of a price tag though… I'll have to wait a while.  Besides, how would such a large machine fit in my tiny apartment?!  This machine with his frame would take up my entire living room!  (I don't think I would mind giving up my living room to own such a machine.)
It was a nice day at the quilt show and I talked with so many vendors and quilters.  It's always fun to "shop talk."  It was also really nice to bring Logi and let him see all the different quilts that people have made and include him in this part of my life as well.  I love quilt shows and I need to find out when another one is coming to town!