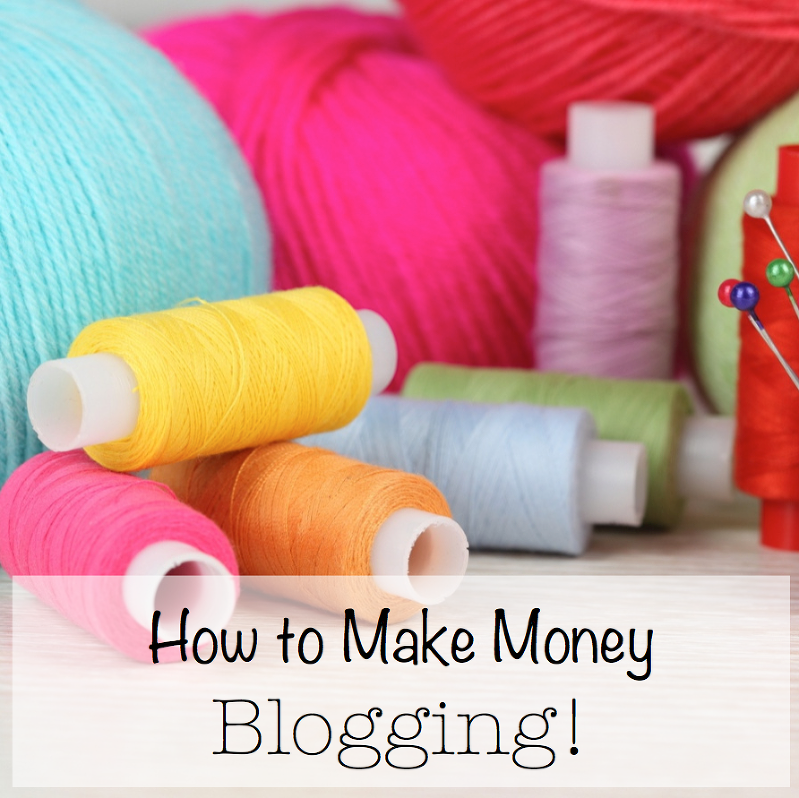 Welcome to Part 3:  How to Monetize Your Blog.  This tutorial will go over how your blog can help you earn income so you can continue to do what you love.
This is part of a 4-step series on Starting a Blog and Earning Income.  In case you missed the other parts, here are links to catch up!
Now that you've started your blog, and you've created plenty of content, you need to put systems in place to make the real dollars. Here are a few ways you can use your blog to start earning those dollars!
Put Ads in Place
This first one is the easiest and most convenient one of all.  You can do this in minutes and start earning immediately.  But first, let's look a little closer at how ads really work.
When I say Ads, I mean those advertisements you see all over the internet, and the one's you see here on my blog, mostly on my sidebar.
To put Ads on your blog, you'll need to work with an ad network.  These networks have contracts with advertisers to place ads on websites and blogs.  The advertisers pay the network for these advertisements to run on these sites and the network takes a percentage as a fee.  The rest of the money is divided up among all the influencers (people who run websites and/or blogs), based on an algorithm calculated on page views.
Your revenue is broken down into an Revenue per Mille or RPM.  Basically, this number tells you how much money you will make per 1,000 page views.
For example, if my RPM was $5 and I had 5,000 page views for the day, then I would earn $25 for that day.
Every day, the RPM changes just as your page views fluctuate every day.  You will never make the same amount of money each day, making it hard to predict how much you'll make on a daily or monthly basis.  But, that's just the name of the game when it comes to blogging!  After a while, you will eventually begin to see patterns that make it a bit less confusing.
Now, let's get to the actual networks:
I currently use Google Adsense.  It is such a great one to start with because of how quick and easy it is to get an account with them.  They have far less restrictions than any other network out there and it is not dependent on your current number of page views at all.  One requirement though, is that your blog must have been active for at least 6 months before you can apply.
There are other popular ad networks out there, particularly those that are popular in the craft-blogosphere, that I'd like to try out to see what works best for my blog.  However, these have more restrictions and requirements, including minimum number of page views (usually at least 100,000 per month), contracts for exclusivity with only 1 network, and number of ads and locations of ads on your blog.
Here's the list of ad networks that I've researched so far:
AdThrive

– It was created by a blogger and requires 100,000 page views to join.  There's also a very exclusive program for blogs with over 750,000 page views (oh, the dream!).  From what I've heard, it's super difficult to get accepted and there's a very long waiting list (which only makes me want to get in even more).

Mediavine

– This is an ad network that pays out much higher RPM's than Google Adsense.  Even better, they take care of the placement and management of your ads for you, giving you maximum revenue for your traffic.

BlogHer

– This is a an ad network that runs sites that are popular with women readers.  As part of this network, you get opportunities to do sponsored posts for various companies (read more about that later here in this post), so that's another added bonus to being in this network.

The Blogging Network

– This ad network offers different programs depending on how many page views you have.  I've heard a lot of positive things about this from other bloggers.  They do not have an exclusivity contract and the minimum page views requirement is only 10,000.
Ok, now that we've covered advertising, let's move on, shall we?
Utilize Affiliate Marketing
Affiliate marketing is when bloggers earn a commission from selling other company's products online.  You find a product you like, recommend it to readers with an affiliate link, and earn a piece of the profit for each sale you make.
Many companies have affiliate programs and you've probably seen lots of affiliate links without realizing it.  I use Amazon Affiliate on my blog.  This is such a great program!  You can advertise anything listed on Amazon.com – which is pretty much EVERYTHING, really.  The commissions I receive are small, but if I'm already going to link where to buy products needed for my tutorials, it's nice to get a little bit of the profits from the sale I just helped Amazon make!
Some affiliates will give you a commission percentage for each sale made through your link, and some will pay you a set rate for each sale, no matter what the consumer bought.  Different programs work for different types of blogs and meet different needs.  Definitely be sure to read all the fine print thoroughly!
Although this process isn't something that you "set it and forget it," it is well worth that extra effort of placing affiliate links.  A blogger friend of mine makes consistently over $10,000 per month in affiliate marketing alone!  What!  Shut the front door!
Write Sponsored Posts
A big way to make some big bucks on blogging income is through sponsored post opportunities.  This of course, depends on your niche and audience.  It is best to only do sponsored posts and products that you actually believe in and use.
Here are some companies that I personally appreciate and find lucrative.  I've also included those that I've heard really good things about and will be trying out.
Pollinate

– This is a blogging network that focuses on blog posts for bloggers.  A typical pay out is $200 per sponsored blog post.  Some of the requirements include blogs that are at least 6 months old, actively engage on 3 or more social media platforms, reside in U.S., and a minimum of 20,000 page views per month.

So Fab

– This network offers both sponsored blog posts and social media posts.  Each opportunity requires that you go into a store and buy a product, then creating a blog post about it.  Typical payouts are $200 per post, but I've seen offerings of $600, though it offers a lot more work of course!

Clever Girls

– This network sends out weekly campaigns via email, also having typical payouts of $200 per post.  Some requirements include:  minimum page views of 25,000, being active on Twitter and Facebook, (which is why I haven't applied… I just never got the hang of "tweeting."  But I suppose some extra dollars would get me to learn real fast!)

Mom It Forward

– This network has a plethora of opportunities for a blogger!  It's more than juts a place to apply for sponsored post opportunities.  They also have family-focused retreats (if you like that sort of thing), guest posts on their blog, partnership brands, blog tour campaigns, and live events.
Here are some other popular networks to look into:  Sits Girls, One2One Network, Influence Central, Activate, Bloggy Moms, TapInfluence, Blog Meets Brand, Acorn, Influenster.
Work Directly with Brands
Major brands have major budgets for advertisement and they are willing to pay to get people talking about their products, especially bloggers.  Try reaching out to them directly, rather than going through a network to do sponsored posts, as discussed above.  I've personally done this by sending emails to the company's marketing department and letting them know that I'm a huge fan of their products and have great interest in working with them.  I also invite them to look at my blog to see how I've spotlighted their products already.  Most of the time, they don't respond! But sometimes, I get an email backing stating how flattered they are and that they LOVE my blog.  A couple times though, the brand posted on their blog and linked to mine!  Those were really good days for traffic!   I have yet to get an actual, "YES! We would love to work with you!" But you know what they say… every "no" brings you one step closer to a "yes!"  That's what they say, right?  Let's keep it going!
Sell Products on Other Platforms
Part of my income comes from selling items on Etsy.  There, I sell my patterns as a printer-friendly PDF version, finished products that I've made extras of (for photo purposes), and also extra materials I no longer need.  Usually, I buy too much fabric (do you have this problem too?) and need to de-stash.  It's nice to reclaim some of my expenses spent on cost of goods to create the products!
There are other platforms too that work exactly like Etsy for your crafts.  These websites include Ravelry, Craftsy, and Patternfish.  Even though I want to have a presence on these websites too, I simply don't have enough time to manage all these different accounts.  Etsy works best for me and I'll stick with it for now.
I hope you are finding everything here very helpful!  Comment below to tell me about your blog!
Here are the other parts of this 4-part series on blogging:
Which blog monetizing strategies have worked for you?