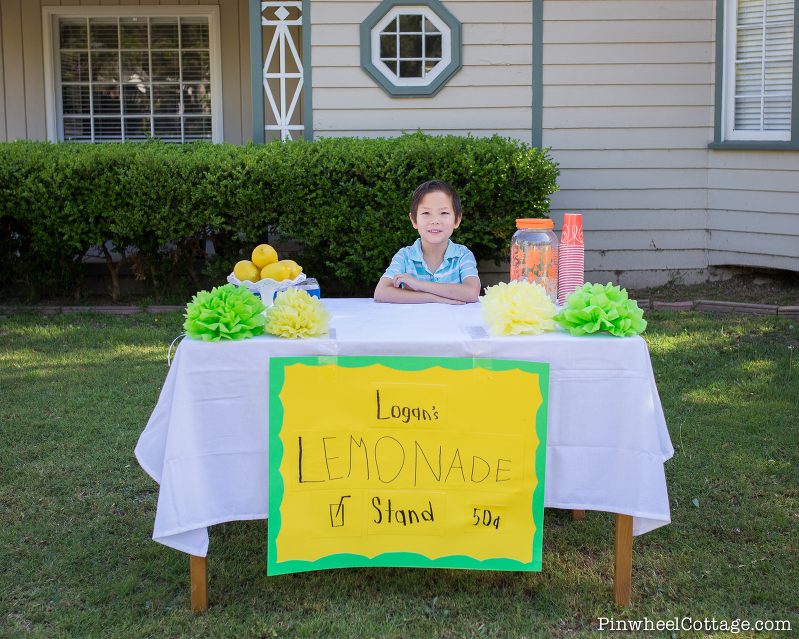 This is Logan.  He's a small business owner.
This past week, my son turned 6 years old.  I asked him what he wanted to do this weekend.  Without any hesitation, he said, "I want to sell lemonade.  I need a lemonade stand."  (AWESOME!)  I asked him what he wanted to do with all the money he was going to make selling the lemonade.  "I'm going to buy a farm."  (SO AWESOME!)  We started planning right away and opened shop on Saturday!  I love his little entrepreneurial spirit!
We put up a sign and decorated the table with little pom poms made of tissue paper.  I made a bunting banner on dowel sticks to string above the table but I didn't properly weight it down so they kept falling.  Sad we had to take it down. The stand would've been extra cute with a banner on top! We'll try again next week! ;)
The main ingredient in our lemonade?  Fresh lemons!  Grandma has a lot of lemons growing in her garden.  Time to put these little guys to work!  We do not have a citrus squeezer so we hand-squeezed each lemon ourselves!  It was worth all the hard work!  He got so many compliments from his customers!  Many of them were surprised that we even used fresh lemons.  A couple of the customers even came back to buy more after tasting the first cup!  Business is good!  Logan can't wait to sell lemonade again next weekend!