The Elementary Quilt
Finished Quilt Size: 45″ by 55″
My friend Allan is someone that I've known since we were both three years old.  He lived in the house across the street from mine, and we rode our trikes around on my front yard in our pull-up diapers.  Ah, childhood memories…
Well, we're all grown up now (and out of diapers) and he has a little boy too.  His name is Aaron and he is always so cheerful and sweet!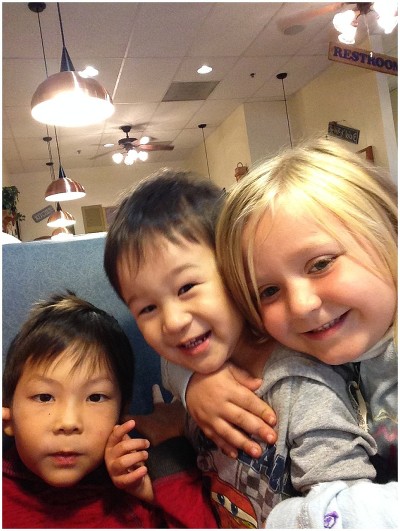 (Aaron is the little face in the middle.)
Aaron's 2nd birthday was coming up and I wanted to make him a special little quilty gift to keep him warm this winter.
I chose the designer fabric line "Lakeside Gathering" by Primitive Gatherings for Moda.  It's super cute with prints of tiny stars, arrows, stars, moons, and anchors.  Perfect design and colors for a little boy.


I found the backing fabric at Joann Fabric.  Little anchors to match the nautical theme of the quilt top.  Extra sweet because the top of the anchors are hearts!  Awe.  The binding is also cute.  Navy blue with little gold triangles.
My Logi.  Always volunteering to help model a quilt.
He asked why I haven't made him a quilt in a while.  Awe.  I'll add that to my list of things to do.


It's always such a satisfying and rewarding feeling when I finish a quilt and I get to fold it up into a little package.
Happy 2nd birthday, little Aaron.  We love you so much!
I've written a tutorial on this quilt pattern.  See the step-by-step quilt tutorial here!
Thanks for stopping in today!
Lots of Love,
Susie