Wiltshire Daisy Quilt
Finished Quilt Size: 55″ by 60″
It's time to share the results of my Wiltshire Daisy Quilt! I am so thrilled to have finally completed this project and I snapped a few photos before I sent it on its way to its new owner, a little 15-month old girl.  This was a custom quilt order, using designer fabrics from Riley Blake Designs new fabric line called Wiltshire Daisy.  The little girl's mother loved my Rosey Triangle Quilt, and wanted her custom quilt to look like it.
So once we finished, we were off to the park for the photo shoot!  I had my favorite little helper with me.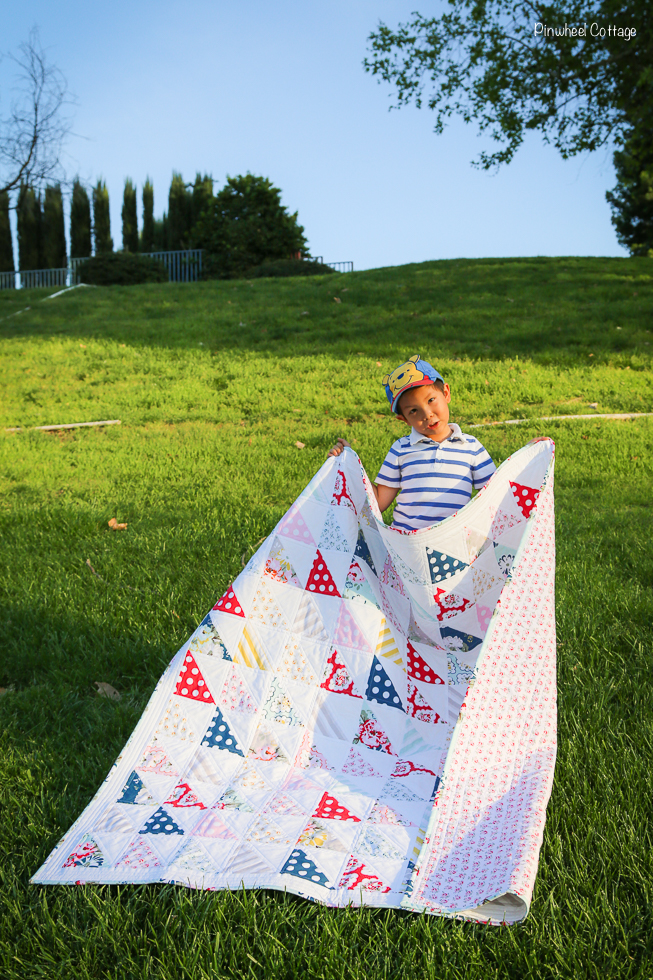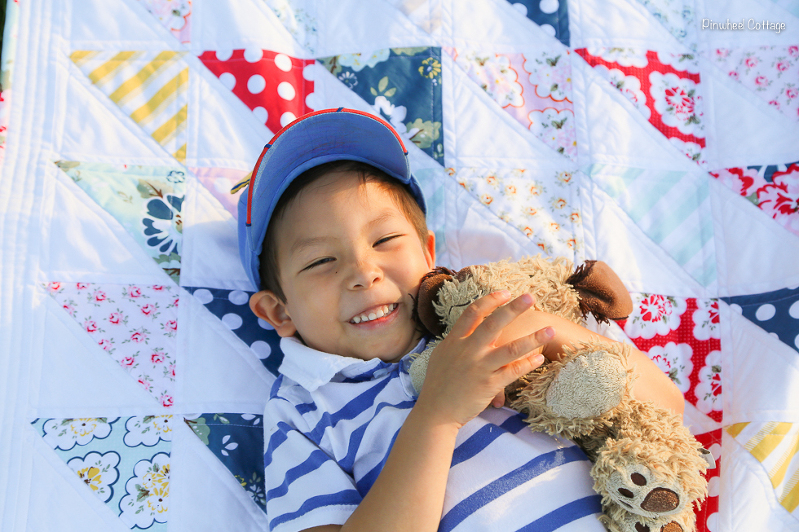 It's like a natural instinct for him to want to lay on the quilts immediately.  My cat does the same thing too.  Why do they just assume I make these quilts for them?


I like how the sun, is softly shining through the back of the quilt.  As if I had just hung it out to dry after a wash and I have to take it into my cottage before dark.  Because that's what countryside people do, right?  How I wish I lived in the country!  Until then, I shall make do with my local park and imagination.


Here's an image of the backing, called Wiltshire Petals Pink.  Lots of little pink roses.  So soft and feminine.  Perfect for a little girl.


Here's the binding I picked out.  It's called Wiltshire Main Aqua.  It's so fresh looking.  Minty freshness with bright flowers!  I love it!



It's all folded up and ready to be shipped!  I gave it a good hug before I packed it into the box.  It's always hard to let go of my quilts.  We spend so much time together in the making.
This project was so much fun and I hope I receive more custom orders.  I really enjoy the designing and creative process that goes into making these quilts.  If you are interested in a custom quilt for you or to give as a gift to someone special, don't hesitate to contact me.  Let's design one together!
Thanks for stopping in today!  Until next time!
Susie  :)