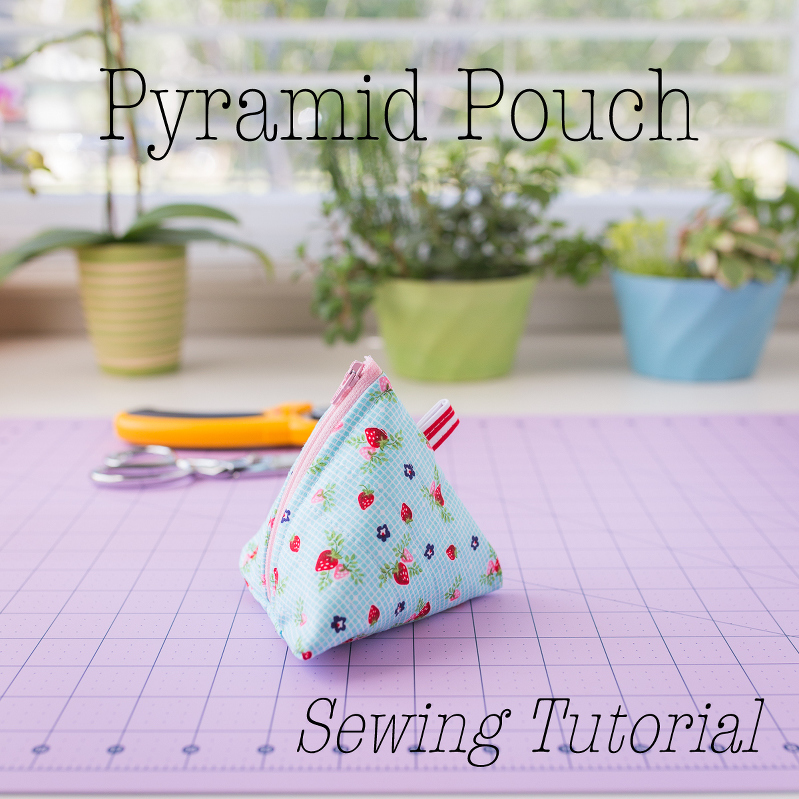 Here's my sewing tutorial for this cute little pyramid pouch!  The finished size measures 3½".
Basic Material Requirements: Scissors, rotary cutter, rulers, sewing thread, pins or clips, sewing machine
7-inch Zipper (one)  I make so many of these that I buy zippers in bulk, so I will always have them on hand.  (Zippers are really cheap on Amazon – 9″ Zippers, 54 pieces, assorted colors.  Just cut them down to the size you need!)
Fabrics:
4" x 8" rectangle     Outer Fabric
4" x 8" rectangle     Lining Fabric
4" x 8" rectangle     Batting
2" x 4" rectangle     Tag
Notes:
 Sew all pieces using ¼" seam allowance.
 It is not necessary to use a zipper foot when attaching the zipper to the fabric, but it is helpful if you prefer the fabric to be close to the zipper teeth.
Sewing Instructions:
Attach the outer shell fabric to the the batting by quilting repeated lines 1" apart.
With outer shell facing up, place the zipper at the edge facing down. Then place the lining fabric on top, facing down. Clip together to hold in place and sew down the edge.
Flip the lining over to face down, zipper face up, and outer shell face up. Top stitch to secure all layers.
Fold the outer shell in half to meet the unsewn side of the zipper. Then fold the lining fabric in half and place face down on top of zipper.
Clip down and sew together all layers.
Topstitch along the zipper by flipping the lining around so that the outer shell is facing outward.
*Note: This part gets tricky as you get to the narrow side of the zipper! Go slow and tug on fabric as you sew to maximize space and maintain an even stitch.
Zip the pouch closed and flip inside out. Flatten the pouch so that the wrong side of the zipper is placed horizontally in the middle. Sew along the right edge using a regular sewing stitch. Then, use a zig-zag stitch to close up the raw edge.
Trim the sewn edge, as well as all loose threads.
Press the tag fabric in half lengthwise and then fold in the sides to meet the middle. Press to hold shape. Then topstitch lengthwise to secure.
Open the opposite side of the pouch and clip closed. Fold tag in half lengthwise and insert into pouch ½" from the zipper, pin in place. Use an additional clip to secure the edge. ***MAKE SURE the zipper is halfway open.***   Sew along the edge using a regular sewing stitch. Then, use a zig-zag stitch to close up the raw edge. (If the zipper is closed when you sew this edge, you won't be able to get the pouch open! 😊)
I hope you enjoyed this tutorial!
See more photos of the finished pyramid pouch here!
Thanks for stopping in today!  Happy Sewing!
Susie 😊✨
Have you tried this pattern?  Let me know what you think!